Hébergement:
citadelservers.com
Visit CitadelServers
Evaluation:

3.9

Fourchette de prix:

$0.63 per slot

Slots:

20 - 64

Période d'essai:

Pas de version d'essai

Promo codes for CitadelServers:
Server location of game hosting:

Australia Sydney

Canada QC Montreal

France Paris

France Strasbourg

France Roubaix

Germany Frankfurt

Italy Milan

Netherlands Amsterdam

Poland Warsaw

Singapore

United Kingdom London

United Kingdom Bristol

Payment cycle:

1,3,6,12 months

Website languages:

English

More details about CitadelServers
Méthodes de paiement:
Support de mods:
Assistance clientèle:

Ticket System

Live Chat

24/7 Support

Notes:

Automatic Backups

Switch Locations

Panneau de configuration:

Custom

Supports de clusters:

Free
Building on survivalist and horror themes, players in 7 Days to Die can scavenge the abandoned cities of the buildable and destructable voxel world for supplies or explore the wilderness to gather raw materials to build their own tools, weapons, traps, fortifications and shelters. In coming updates these features will be expanded upon with even more depth and a wider variety of choices to survive the increasing dangers of the world. Play alone or with friends, run your own server or join others.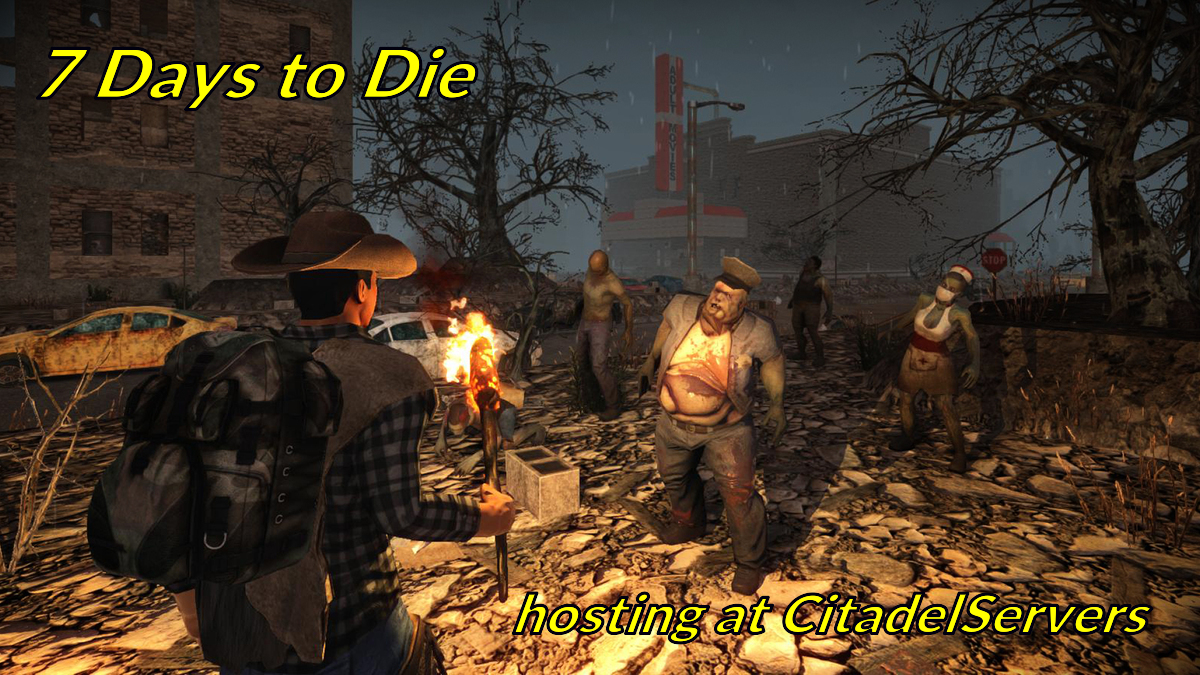 Last reviews about CitadelServers:
Horrible Customer Experience. 0 Stars if possible.

Long story short: We purchased an The Isle server through these guys. The server would not start with default settings. We sent in a support ticket, marked HIGH PRIORITY, and it took them a bit over 4 HOURS to respond with 'We fixed it.'

We were very unhappy with the experience, we moved to PingPerfect. They are a much more reliable company, and their support? 1000x better than these guys. Average response time for PingPerfect tickets? 1-2 MINUTES. Versus 4 HOURS for these guys.

Also, PingPerfect sent us multiple responses through the process of fixing the server. Citadel never even acknowledged the ticket until over 4 hours later when they said 'we fixed it,' and even then the server still didn't show for us.

They also SCAMMED us out of $50 USD. They refuse to refund us, and if we attempt a chargeback, they will charge us an additional 100 Euros. This is simply UNACCEPTABLE.

These guys should be going out of business with how horribly they're treating their PAYING customers.

I am keeping my name anonymous so they don't know exactly who we are as a community. I highly recommend going with PingPerfect, or any other highly rated community. PingPerfect gets a 9.3 or 9.4 out of 10 here on TrustPilot. These guys get less than half that.

It's obvious now how bad of a company they are. We don't want you to go through the same experience we did.

Citadel, if you read this, please, shut down your company. You are a huge scam and making a lot of people unhappy. I have shared this review and my bad experiences with 200+ people on my own community, and the OFFICIAL The Isle discord. Now many people have a warning to not use your services.

Awesome server and support

Awesome server and support. Chat agents are helpful and nice.

I was shocked.

At first I read the reviews and thought

"Oh god I made a mistake"

However, when I hit my first problem they actually helped me. Awesome staff members helped and explained how to do everything I couldn't figure out.

Don't always look at the bad reviews. They treated me great despite the bad reviews it has