Hosting:
craftandsurvive.com
Visit CraftAndSurvive
Rating:

2.1

Price range:

$1.01 per slot

Slots:

16 - 100

Trial period:

There is no trial version

Promo codes for CraftAndSurvive:
Server location of game hosting:

Canada QC Montreal

France Paris

Australia Sydney

Germany Frankfurt

United Kingdom London

United States CA Los Angeles

United States TX Dallas

United States NY New York

United States UT Salt Lake City

United States NC Charlotte

Payment cycle:

1,3,6,12 months

Website languages:

English

More details about CraftAndSurvive
Payment methods:
Mod support:
Customer support:

Email

Ticket System

Live Chat

24/7 Support

Notes:

24 Hour Money Back Guarantee

Automatic Updates

Automatic Backups

Control panel:

TCAdmin

Cluster support:

Free
Instant Setup
Once you purchase a server with us, your game server will begin setting up instantly after
payment confirmation. Hassle free server setup.

24 Hour Refund Policy
If you have ordered the wrong server or addons
and would like a refund, no problem simply
request this via support ticket within 24 hours.

24/7 Friendly Expert Support
The main feature we are known for is not only our lowest prices but also our amazing support team. Support replies come in as soon as 5 minutes or less.

Multiple World-Wide Locations
No matter were you or your online gamer friends live you will find a location that fits your needs.
Our everage pings are just 15ms across the board.

Real-Time Server Backups
Our server backups are stored on a dedicated NAS
located at the top of the server rack in the D.C.
They are connected via 10GBps cable for high speed.

TCAdmin Version 2 Control Panel
Over 1000 Hours has gone into development of our control panel. We offer our customers with the most easy to use drop down / click & select CP menus.

Enterprise Grade Hardware
All of our machines are Dell R710 2U Rack Servers.
They comprise of 2x intel Xeon 6 Core Processors
running at 4Ghz, 256GB Memory & 850 Pro SSDs.

Cheapest Prices Online Guaranteed
When we say the cheapest, we mean it. Our prices
will never be beaten. No other provider can offer
the same High Quality, Low Prices as we do.

Enterprise DDOS Protection
We don't just "Minimize" like all other providers, we stop attacks in their tracks at the datacenter level. Your server will remain online 24/7 365 guaranteed.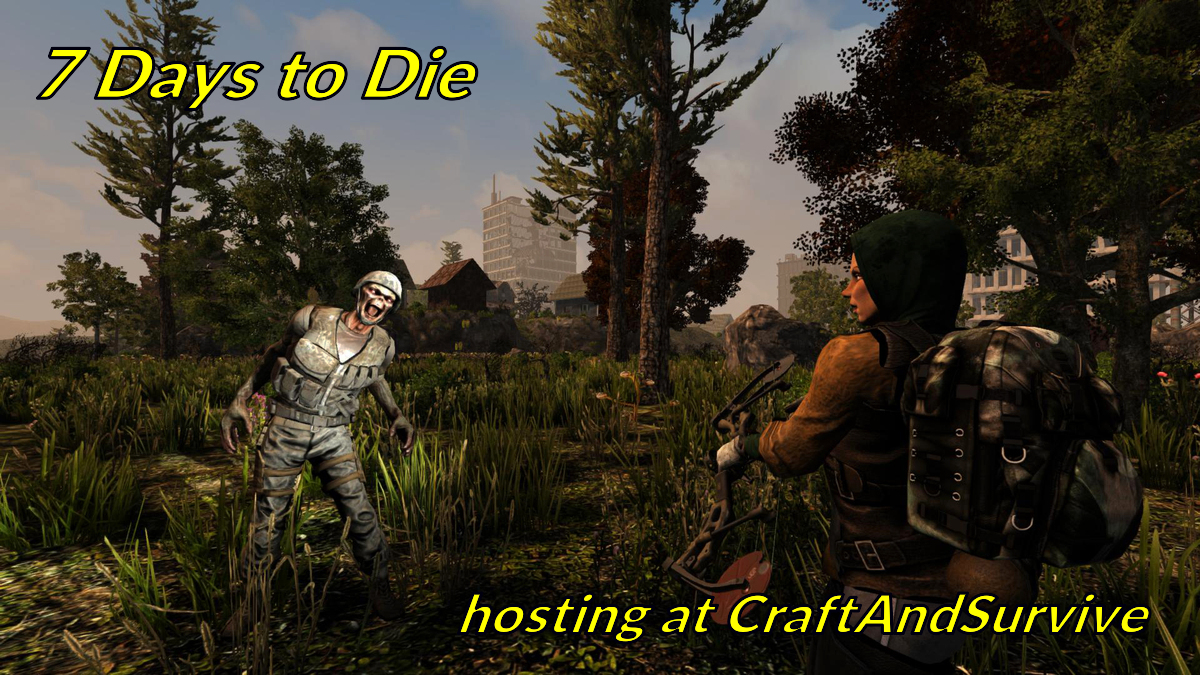 Last reviews about CraftAndSurvive:
False Advertising

I went to order a new server from CAS 2 weeks ago and noticed that their advertised prices on the search engines AND on their own website do not match what they actually charge people. I spoke with a customer support representative through their site and was told "they had to rebuild their website due to a server going down" and they "lost all their data and backups." Fair enough, still doesn't explain why their outbound advertising isn't fixed, that should be the first step in a price structure change.

Decided to go back today and see if they fixed the issue, and they still have not. They are advertising a 7-Days to Die server on their main page at $0.20 per slot, however in their order system the cheapest that I have been able to find is $1.01 per slot.

Everyone has "server malfunctions" and responsible businesses fix the issues. False advertising, however, is a good way to lose trust and respect as a business quickly.

A reliable service

A reliable service. Support is responsive too. Only random hiccups here and there.
I have no idea what their volume is or how many staff they have, but it feels like they are doing a lot with a few. They are doing it thought. :-)
Great value!

Powerful but no longer affordable

Pros: Their admin interface is one of the easiest to use of any hosting service

Cons: They have significantly increased their prices and the cost outweighs the usefulness. Also their customer service is very slow to respond.