Хостинг:
bluefangsolutions.com
Перейти на BlueFangSolutions
Рейтинг:

4.8

Диапазон цен:

$1.25 за игровой слот

Слоты:

12 - 80

Пробный период:

Нет пробной версии

Промо-коды для BlueFangSolutions:

gsp10

Расположение игровых серверов:

Australia Sydney

Australia Perth

France Strasbourg

Germany Dusseldorf

Singapore

South Africa Johannesbourg

United Kingdom London

United States TX Dallas

United States FL Miami

United States WA Seattle

United States NY New York

United States CA Los Angeles

United States IL Chicago

Платежный цикл:

1,3,6 месяцев

Язык вебсайта:

English

Дополнительно про BlueFangSolutions
Методы оплаты:
Поддержка Mod-ов:
Клиентская поддержка:

Email

Ticket System

Live Chat

24/7 Support

Примечания:

72 Hours Money-Back Guarantee

Free SSD Drives

Панель управления:

Custom

Поддержка кластеров:

Free
7 DAYS TO DIE game server hosting (monthly rental)

[NOTICE] This game is in early access Alpha stages. There are no guarantees of performance or reliability with your dedicated server. Pricing is subject to change throughout development stages.

"7 Days to Die" is a new survival horde crafting game from The Fun Pimps.

In the year 2034 nuclear attacks have decimated the Earth and the remaining population is infected by an unknown virus. The infected die within 7 days and soon reanimate becoming blood-thirsty zombies. No one believed it; nobody expected it and nothing can stop it! You are a survivor in Navezgane County Arizona, a rare Eden in a world of devastation. Ironically, the Apache word "Navezgane" means Killer of Monsters, and kill you will as you fight, scrap, craft, salvage and fortify your way to survive looking for the truth behind what really happened.

"7 Days to Die" is an open world, voxel-based, sandbox game blending the best elements of FPS, Survival Horror, RPG and Tower Defense style games. "7 Days to Die" looks to carve out its own space giving gamers what they really want with a unique combination of combat, crafting, exploration, and character growth. It's not just Survival Horror anymore its "Survival Horde."

Overseer Panel™
Command Line Editor
Web Based File Manager
100% FTP Access
24/7 Support
Automatic Server Restarts
SSD Drives
No Branding
72 hour Money-Back Guarantee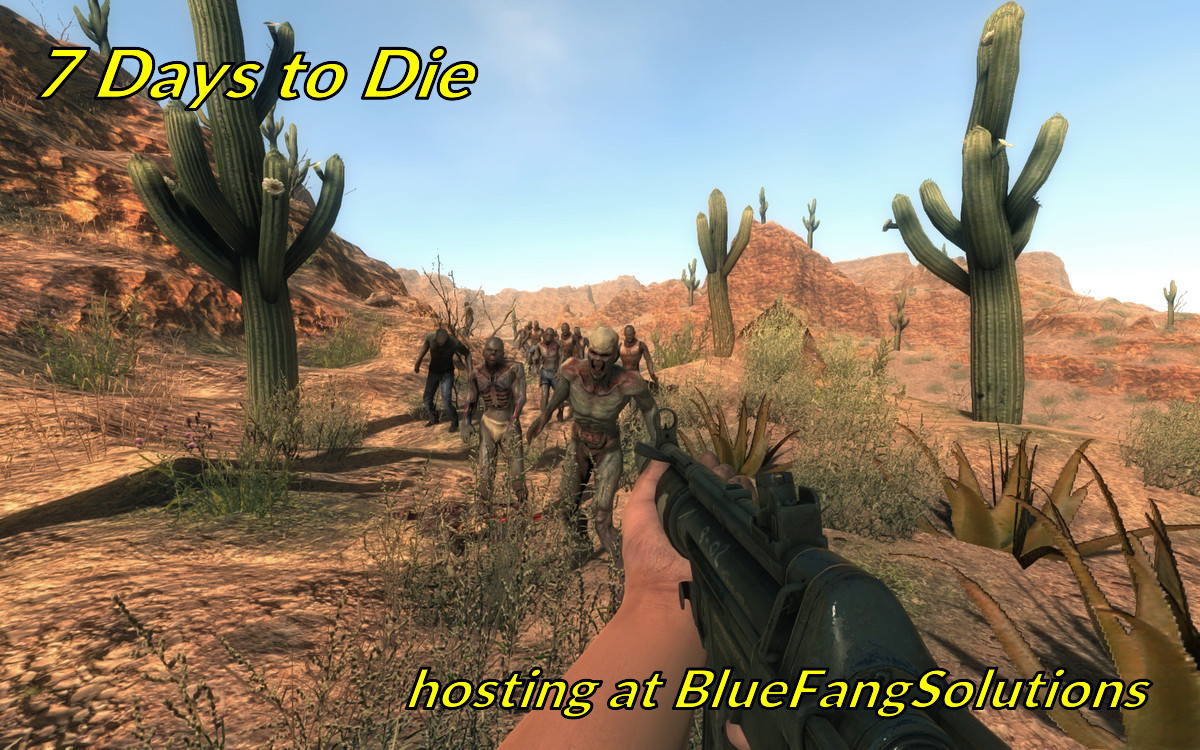 Некоторые обзоры about BlueFangSolutions:
I signed up with Bluefang couple of…

I signed up with Bluefang couple of days ago to run my own dedicated server with them. Player that have been playing on my server was making a big fuss about Bluefang so I decided to give them a go!

Very disappointing to say the least! What they do not tell you on their flashy website is that they do not offer 24/7 support like most other game server providers.

I ran into an issue with my game and waited for half a day before support replied to my ticket. It seems they open when they feel like it cause the first response i got from them was at 10am in the morning! A full 9 hours after I submitted a ticket for support.

I also find their game panel/control panel not very user friendly so I really cannot recommend them as a provider of choice! Not good!

Blatant bait and switch tactics

Blatant bait and switch tactics. They sold a server that they didn't have the appropriate hardware for. They admitted this in the service tickets and they suggested I lower the playercount for the server or pay 3x more for a dedicated box. I said I wanted a refund, they declined. Hoping a charge back will go through as they are operating very unethically.

EDIT:
Upon seeing that I filed a dispute with paypal and gave them poor reviews, they cancelled my account and took all the funds associated with my purchase. I have filed a complaint to the FTC as well as the BBB.

EDIT 2:
To their response: Their representative acknowledged that the hardware they were hosting on was insufficient to host an 80 player server. They are the ones responsible for delivering the service, not the game developers.

Great company with great staff always…

Great company with great staff always available to help.
Quick response time.
Great customer service from the Staff.
Craig especially as been nothing but wonderful.
Thanks!