Хостинг:
vilayer.com
Перейти на Vilayer
Рейтинг:

3.1

Диапазон цен:

$0.55 - 1.18 за игровой слот

Слоты:

10 - 128

Пробный период:

Нет пробной версии

Промо-коды для Vilayer:
Расположение игровых серверов:

Netherlands Amsterdam

France Paris

United Kingdom London

Spain Madrid

Germany Frankfurt

France Strasbourg

Italia Milan

Switzerland Zurich

Czech Republic Prague

Russia Moscow

Sweden Stockholm

Estonia Tallinn

Finland Helsinki

Singapore

South Korea Seoul

Japan Tokyo

China Hong Kong

China Anhui

China Shanghai

China Beijing

Australia Sydney

Australia Melbourne

New Zealand Auckland

United States NY New York

United States NJ Philadelphia

United States NY Buffalo

United States GA Atlanta

United States FL Miami

United States TX Dallas

United States MO Kansas City

United States IL  Chicago

United States MO St Louis

United States WA  Seattle

United States CA Los Angeles

United States CA San Jose

United States NV  Las Vegas

United States UT Salt Lake City

Canada QC Montreal

Платежный цикл:

1,3,6,12 месяцев

Язык вебсайта:

English

Дополнительно про Vilayer
Методы оплаты:
Поддержка Mod-ов:

All Mods Supported

1-Click Install & Update

Mod Manager GUI

Клиентская поддержка:

Ticket System

24/7 Support

Примечания:

Automatic Backups

Includes Voice & Web Hosting

Панель управления:

Custom

Поддержка кластеров:

Free
WHAT IS 7 DAYS TO DIE?
7 Days to Die is an open-world game that is a unique combination of first person shooter, survival horror, tower defense, and role-playing games. Play the definitive zombie survival sandbox RPG that came first. Navezgane awaits!

SEC-LAYER DDOS PROTECTION FOR 7 DAYS TO DIE GAME SERVER HOSTING
With over 600Gbps protection you can be assured your 7 DAYS TO DIE GAME SERVER HOSTING wont be affected by a DDoS attack and best of all it's FREE at ViLAYER.

ANTI-DDOS GUAGE
DDoS Protection
Instantly mitigates malicious attacks
All attacks are dealt with in seconds

Only clean traffic is sent to the server
All normal traffic can reach the server

Completely transparent to regular traffic
Nobody will know you've been attacked

Included free of charge with any server
Every service is protected free of charge

Every IP protected from DDoS attacks
Every ip address is protected free of charge

In-house filtering for no added latency
No latency and instant detection of attacks

Stay online throughout attacks
Never go offline regardless of attack

Multi point protection
Stop the attack in the source country

Peak protection always increasing
Constantly increasing protection in all locations.

Protection from small and large attacks
All attacks are dangerous and mitiaged

Game Server Hosting at ViLAYER
We have been hosting Game Servers and offering multiple types of Game Server Rentals options for 10+ years, we have spent 1000s of hours developing our unique infrastructure world wide offering our clients 40+ DDOS protected locations all with the same high standard hardware, network and control interface.

We absolutely pride ourselves on making 110% sure that your game server hosting runs only on the highest performance hardware available thus making sure your server runs at the max the 7DTD game engine will offer. Also at VILAYER we don't use any types of virtualization at all on any of our gaming servers, we only use pure dedicated servers to run your gaming server and best of it all is we don't limit the usage regardless of how much the game uses.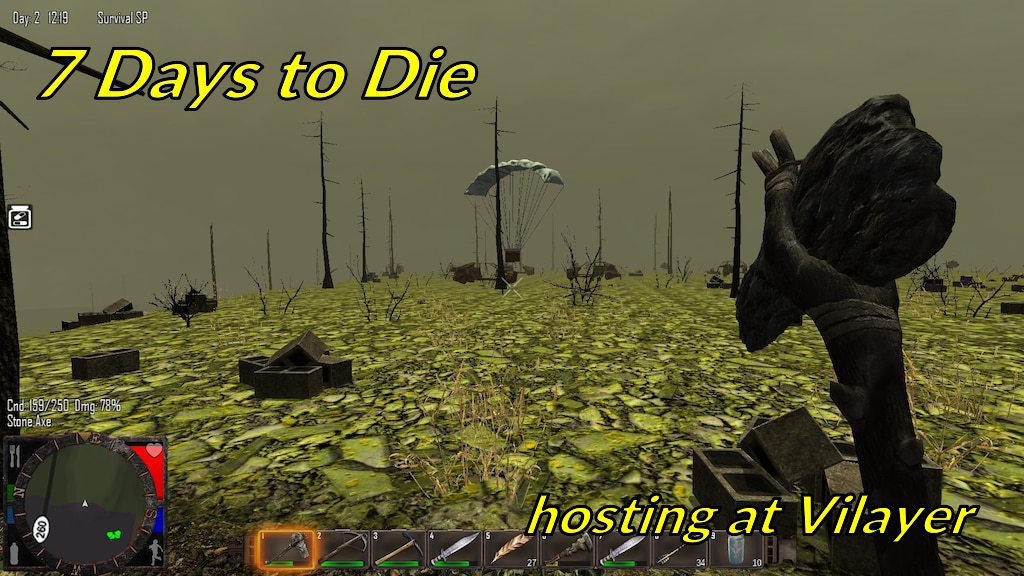 Некоторые обзоры about Vilayer:
Very bad experience
Very bad experience, not recommended to buy here, they charge you for the product, which they do not have in stock, they close the support tickets without answering, they spend the days after paying and without having the service, nor the return of the payment.Buy here is losing money, time and patience.

One of the best services I've ever used
I Have had vilayer for some months now, I get the best support I've ever had from a company. The support team helps me with adding plugins or any bugs that I encounter. The servers run fine as I have 5 servers with them I use them for Csgo and I never get any lag problems.

Server does not work
Server does not work. No support. And they wont answer my request for a refund. I tried many hosts, this has been the worst.