Хостинг:
serverblend.com
Перейти на ServerBlend
Рейтинг:

4.9

Диапазон цен:

$0.9 за игровой слот

Слоты:

10 - 40

Пробный период:

Есть пробная версия

Промо-коды для ServerBlend:

10VAMPS

Расположение игровых серверов:

Canada Montreal

United States TX Dallas

France

Germany

Платежный цикл:

1 месяц

Язык вебсайта:

English

Дополнительно про ServerBlend
Методы оплаты:
Поддержка Mod-ов:
Клиентская поддержка:

Ticket System

24/7 Support

Примечания:

Automatic Backups

Money Back Guarantee

Public Pay

Панель управления:

Custom

Поддержка кластеров:

Free
High Performance
Your 7 Days to Die server will be provided on dedicated Intel Xeon processors with fast ECC RAM. With the option of HDD or SSD drives and RAID. Ensuring the best performance and reliability of your 7 Days to Die server.

Fast, Expert Support
To ensure the smooth running of your 7 Days to Die server, we have knowledgeable support staff available 24/7 to help you. Available through ticket, email, phone and Skype. We may even join you on your game server to ensure it's working as it should!

Complete, User Friendly Control
Control your 7 Days to Die server with our customised TcAdmin control panel. Including a special 7DTD web control panel, server settings editor, one click config and world backups, full FTP access and one click Allocs server fixes install and more. Ensuring you have complete, user friendly control of your 7 Days to Die server.

Low Ping
All our 7 Days to Die servers are provided on a high quality network to ensure you achieve the lowest ping and the best gaming experience. Contact us now to test your connection.

10+ slots
Instant setup
Cancel anytime
14 day satisfaction refund
Choose game server hardware including CPU, RAM and Drive.
24/7 technical support
Optimised network with low ping
DDOS protection
Customised TcAdmin control panel
One click backup
One click mod installs (inc Allocs fixes)
Special 7DTD web control panel
Public Pay – Receive public payments to your account
Free easy transfer – We transfer your server to us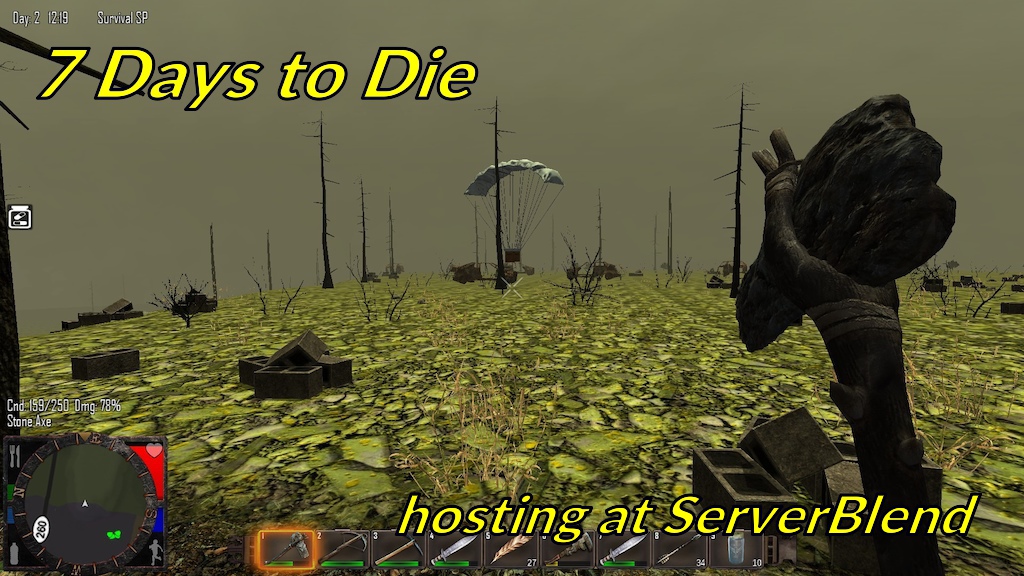 Некоторые обзоры about ServerBlend:
Remarkable
I run several servers with them, their customer service is great and the servers seem really strong. great Value

Good service, good prices, outstanding customer service
Good service, good prices, outstanding customer service.I've been renting a server from ServerBlend for the last three, nearly four months at this point and uptime and stability have been as perfect as the hosted game allows. The selection of services and prices on offer is more than fair and allows for plenty of options to balance out performance and price to your specific needs.In all this time I have run into exactly one issue (which wasn't caused by the hoster in any case) and support solved it within a remarkably short time while also keeping me informed along the way. The user interface can be ever so slightly obtuse in certain spots, but the merest amount of effort on the user's part will mitigate this fully.Truly recommended.

Best Experience Hands Down!
These guys have been absolutely amazing. I run a Rust server under the BreakingRust.net banner, and have been absolutely stunned by their servers performance. It has had virtually no lag (unless I overload the respawn limiters), very little to absolutely no issue. I have had a wonderful experience dealing with ServerBlend, and hope to see them expand to hosting several more games. As of right now, their choice on selection is fairly limited considering I would like to host a full on range of servers, but for the price point and the amazing, and I mean ABSOLUTELY AMAZING CUSTOMER SERVICE, you cannot go wrong!These guys will do everything in their power to satisfy their customers, and have gone way above and beyond for me already. If you haven't ordered a server of your fancy from here yet, I suggest you do so like your servers were needed yesterday. They have great staff, great prices, and once again, absolutely amazing customer service. You definitely will not regret it at all!